Home
/
Shipping and payment
Pretorian offers following payment methods:
Bank transfer – after you place an order, you will receive an e-mail confirming your order with information needed to transfer money. Please provide the order number in the title of the payment. It is required to complete your order. Your package will be sent after crediting on our bank account with your payment.
Account No:
PayPal payment – with this method of payment you will be redirected to PayPal website and your payment will be entered in only a few seconds. After that you will receive a message confirming that your order have been placed with us.
            A foreign currency account in EUR:
            IBAN: PL28 1140 2004 0000 3212 0165 7683
            SWIFT: BREXPLPWMBK

            A foreign currency account in GBP: 
            IBAN: PL33 1140 2004 0000 3012 0165 7691
            SWIFT: BREXPLPWMBK
            Credit card we accept Visa and Mastercard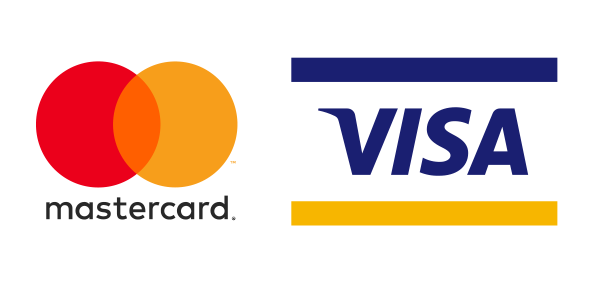 Delivery time = processing time + shipping time.
We usually process and send your package in one day. Then the time of shipment depends on chosen delivery method and country of destination. Average shipping time is one-two working days.
Please notice: delivery time does not include Saturdays, Sundays and holidays. You will be informed about changes of your order status by an e-mail. If you have not received any confirmation, please check the SPAM folder in your e-mail account.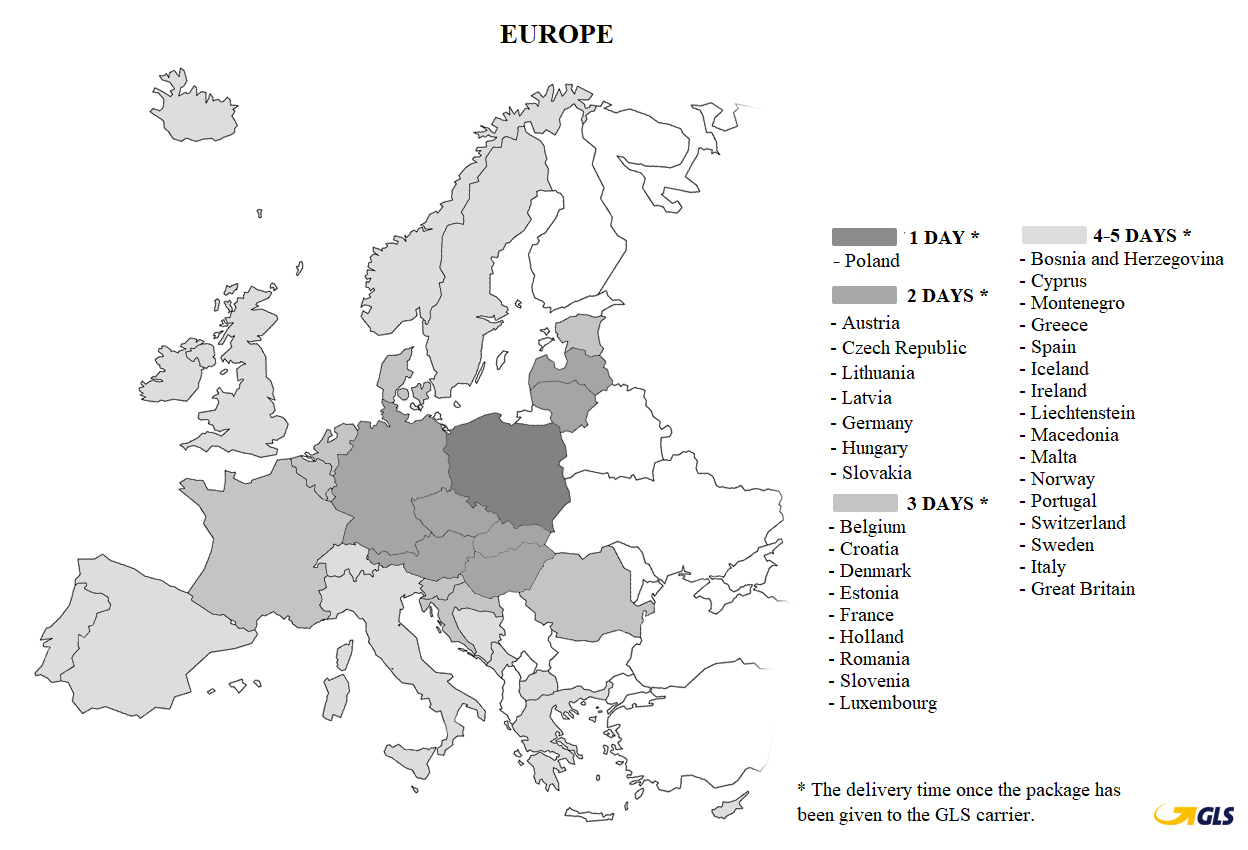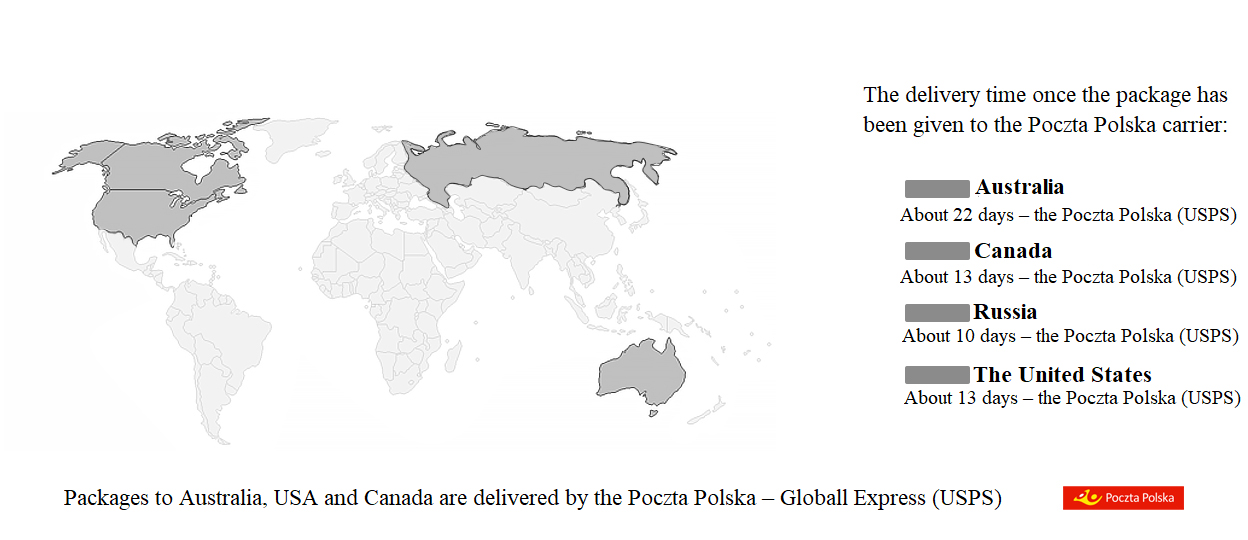 Packages to Australia, USA and Canada are delivered by the Poczta Polska – Globall Express (USPS)
About 22 days – the Poczta Polska (USPS)
The delivery time once the package has been given to the Poczta Polska carrier.
International shipping prices (depends on package weight):
Slovakia 
GLS – from 7 EUR
Post office – from 5 EUR
Czech Republic
GLS – from 7 EUR
Post office – from 5 EUR
Germany:
GLS – from 6 EUR
Post office – from 5 EUR
Great Britain:
GLS – from 7 EUR
Post office – from 5 EUR
Ireland:
GLS – from 16 EUR
Post office – from 5 EUR
USA:
Post office – from 10 EUR
Other countries – only GLS
Austria – from 7 EUR 
Belgium – from 7 EUR
Bulgaria – from 9 EUR
Croatia (continent) – from 10 EUR
Cyprus – from 32 EUR
Denmark – from 7 EUR
Estonia – from 10 EUR
Finland – from 18 EUR
France (continent) – from 10 EUR
Spain (continent) – from 11 EUR
Holland – from 7 EUR
Lithuania – from 8 EUR
Luxembourg – from 7 EUR
Latvia – from 9 EUR
Norway – from 27 EUR
Romania – from 10 EUR
Serbia – from 12 EUR
Slovenia – from 8 EUR
Switzerland – from 12 EUR
Sweden – from 10 EUR
Turkey – from 28 EUR
Hungary – from 8 EUR
Italy – from 9 EUR
Russia– from 8 EUR (Post office)
Iceland – from 8 EUR (Post office)
Malta – from 8 EUR (Post office)
Montenegro – from 8 EUR (Post office)
Macedonia – from 8 EUR (Post office)
Safe shopping
Convenient and secure methods of payment. Payment via PayPal or a credit card